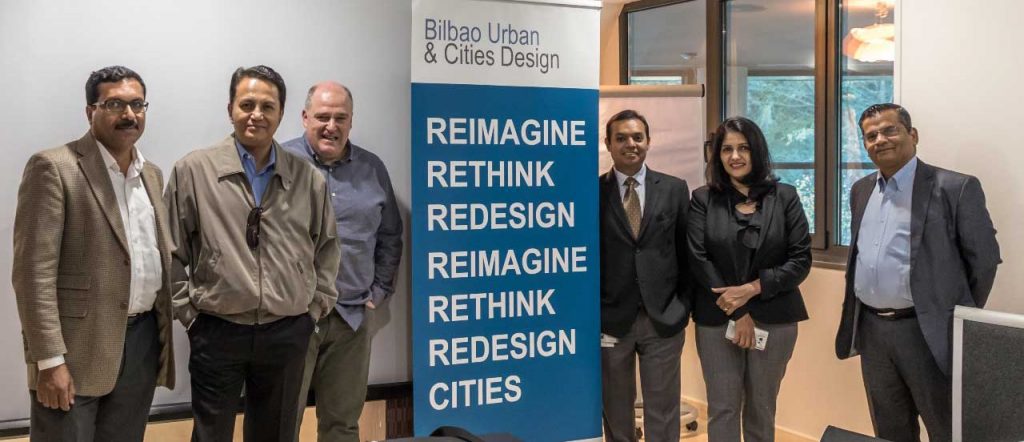 As usual, Bilbao Urban & Cities Design took part in the last Smart City Expo World Congress in Barcelona, from 13th to 15th of November, together with more than 21.000 visitors, 700 cities and 844 exhibitors from 146 countries.
Among them, an important Indian Delegation attended the event, hosted by the Ministry of Housing & Urban Affairs – Goverment of India and leaded by the new director of Smart Cities Mision Shri Rahul Kapoor.
Once the Congress was over and leaded by the Federation of Indian Chambers of Commerce & Industry (FICCI), Bilbao Urban & Cities Design (BUCD) prepared and hosted carefully an Exposure Visit to the city of Bilbao for a part of the Indian Smart City Delegation, composed by six professional related to Smart Cities and Architectural Solutions.
After a first meeting of introduction to Bilbao and to our entity by Xabier Arruza, General Coordinator of BUCD , we had the first encounter of the day, with Mr. Alfonso Martínez, current Director of Bilbao Metropoli 30, Association for Revitalization of Metropolitan Bilbao.
He explained the keys of Bilbao´s success case model of urban rejuvenation and the future challenges of the city and its Metropolitan Area.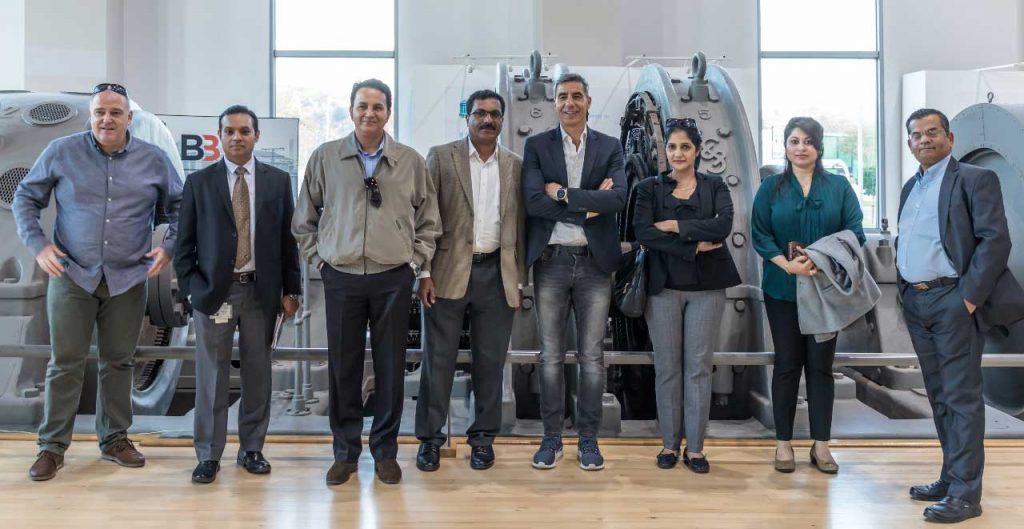 Next we had the chance to know the details of the last remaining major urban regeneration operation in Bilbao – Zorrotzaurre Island – through his manager Mr. Pablo Otaola.
This project represents an integral and sustainable plan, which recovers a space currently degraded to turn it into a new neighborhood of Bilbao, well connected to the rest of the city, equipped with accessible housing, non-polluting business setting up areas, numerous social and cultural facilities, as well as, wide open areas for leisure activities.
In the afternoon, we made several on-site visits to some of the most reprensentative urban rejuvenation project of the Metropolitan Area, like the so called "Urban Galindo", 60 hectares former industrial polluted plot of land, currently transformed in a mixed used area with new living houses, leisure and sports centers, non-polluting business setting up areas and a wide green park area.
As an icon of the area, we visited Illgner Building, the only remaining industrial structure, reconverted today in an Innovation Center for Start Ups, meeting there his General Manager Mr. Iñaki Calvo.
This visit is framed in the internationalization project we launched with the financing of Biscay Government – "RETHINKING CITIES PROJECT: Cooperation strategy for the internationalization of Bizkaia Urban Solutions companies".
Bilbao and other Basque cities are internationally avowed as successful urban regeneration models and throughout this project the aim is to spread and applied the expertise and knowledge of our Urban Solutions Consortium Companies.
The main objective of the project is to seek new frameworks of work and cooperation for the partners of "Bilbao Urban & Cities Design" and GAIA IT Cluster in the field of urban solutions in three emerging markets such as India, Peru, Chile and the Philippines, in order to promote innovative urban models in the referred countries.
For that we will go on with the organization of several Reverse Trade Missions to and from India, Philippines, Peru and Chile.
In this occasion, we would like to specially thank to Mrs Neerja Singh and Mrs. Udita Dasgupta from FICCI, for having made possible this Exposure Visit to Bilbao.
India is nowadays probably the biggest urbanization process on a world scale and we firmly believe that the enriching experience gained during Bilbao´s award-winning Urban Transformation process, may serve to inspire Indian cities.
"Bilbao Urban & Cities Design" formed by some of the best Urban Strategy Thinkers who came across during the Bilbao Metropolitan Urban Transformation process, has among its objectives the following related to international business:
Attraction of international urban projects to be developed by members of the Association.
Establishment of transnational agreements with public and private entities.
Promotion of our companies and professionals in the international
If you are interested in this kind of projects, do not hesitate in contacting us.